Marion Calmer had always thought he "just wanted to be a farmer," but he's a true innovator.
In the mid-80s, Calmer started doing on-farm research that ultimately led to his discovery of the yield advantages of narrow-row corn in the mid-90s. That discovery then led Calmer to building the world's first 15-inch corn head, he recalls. Farm Equipment Editor/Publisher Mike Lessiter sat down with Marion Calmer, owner of Calmer Farms, Calmer Ag Research Center and Calmer Corn Heads and a long-time friend of Lessiter Media founder Frank Lessiter, during the National No-Tillage Conference to film his story.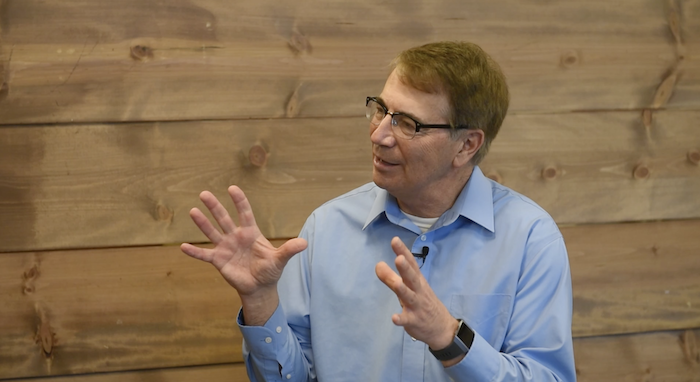 Marion Calmer is a farmer at heart, and his on-farm research influences his equipment innovations.
The residue buildup problem in the late '90s with the onset of Bt corn stalks "led me to designing and manufacturing the Bt Chopper stalk roll and starting up the company that we now call Calmer Corn Heads," he says.
"We started this thing in the back of our little machine shed," he says. "The 15-inch corn head was the first thing we built. I did not realize that it was patentable and then found out that I should probably visit with a patent attorney."
Calmer jokes it's almost like someone had laid everything out in front of him and all he had to do was execute. His first patent attorney Vince Harsha was retired from Deere & Co. "They called him the Wizard. He was in charge of Deere's intellectual property department," he recalls.
After sharing his idea, Vince told Calmer it was patentable, saying "If anybody had done this, I would know about it."
As Calmer walked out the door, Vince said to him: "I've met your kind before. I'm pretty confident that once you learn the train of thought for innovation, and once you learn the system of filing patents and what it takes, you're just going to continue to come out with inventions and patentable concepts into the future. And it'll be in the corn harvesting department."
The farmer in Calmer told him he was wrong — this was a one and done deal. Fast forward to the present and Calmer Corn Heads has 20 different inventions in as many years. Must be why they called Vince the Wizard.
Shortly after the patent was filed Calmer had OEM contracts with both Deere and Case IH. But his invention faced the proverbial "not-invented-here" obstacle at both manufacturers, and an uphill battle with engineers who resented that an outsider might have developed a better design.
He had assumed they'd take what he'd invented and make it better. "Instead," he says, "they took my toy and broke it, and then I had to go pick up the pieces."
Upon the dissolution of the first agreement, he immediately signed on with another. But the end result was similar, Calmer says, naming engineers who spent more time fighting his invention than examining its feasibility and stringing things along to where it failed to meet the manufacturer's internal ROI requirements.
By this time they'd outgrown the farm shed and had to get bigger or get out, a decision that led him to purchase a closed Ford New Holland dealership to operate as an assembly operation and warehouse in Alpha, Ill.
In 2012, Calmer Corn Heads introduced the world's first 12 inch row corn head. Stine Seed had approached the company and challenged them to produce a 12 inch row corn head, as they were developing special genetics for narrow rows and ultra-narrow row corn.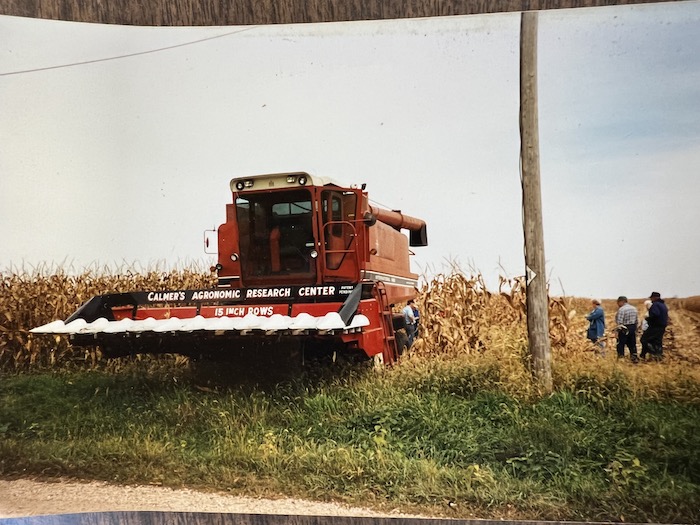 Marion Calmer built the world's first 15-inch corn head which lead to the formation of Calmer Corn Heads.
Calmer recalls a conversation with Kinze founder Jon Kinzenbaw, who like Calmer was a No-Till Innovator of the Year alum.
"He said, 'Marion, if you want this thing done and done right, you'll do it yourself.' And so we started our own company. Never in my wildest dreams did I expect to become a shortline manufacturer of corn heads and corn head parts, let alone build the world's largest corn heads, the one with the narrowest row spacings and invent the world's first chopping stalk row.
"They just happened. I always tell everybody that necessity is the best mother of invention. If you find a problem, our job is to come up with solutions. That's where we're at today, and I think we're going to continue that. We are looking forward to the challenges as we move into the future."
Calmer wants to help farmers find the solutions they need, and that's why he's happy to share his personal cell phone with every customer. "We know what it's like. Harvest is 24/7 when the crops are ready to go. And we want to be there to help them through that harvest."
---
Visit www.farm-equipment.com/innovators-docuseries to view this and the other episodes in the series.